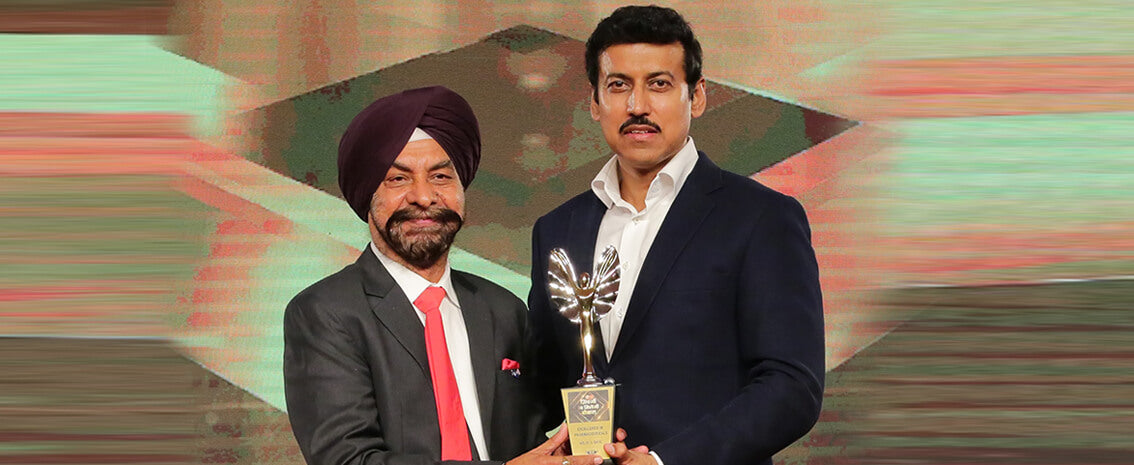 Excellence in Pharmaceuticals Award 2017
Dr. MS Basu: A Life Devoted to Ayurveda and Healing
In a prestigious ceremony in 2017, Jagat Pharma, the renowned Ayurvedic company, was honoured with the esteemed "Excellence in Pharmaceuticals Award 2017." The award, presented by Minister Rajyavardhan Singh Rathore, acknowledged Jagat Pharma's outstanding contributions to Ayurvedic medicines and its commitment to providing effective and innovative healthcare solutions. This recognition solidifies the company's position as a leader in the pharmaceutical industry.
Minister Rajyavardhan Singh Rathore: A Champion of Sports and Youth Affairs
Minister Rajyavardhan Singh Rathore, who held the cabinet position with independent charge for the Ministry of Youth Affairs and Sports from 2017 to 2019, has been a prominent figure in the Indian government. Known for his passion for sports and commitment to youth development, Minister Rathore has played a pivotal role in promoting excellence in various domains, including healthcare.
About the award:
The Excellence in Pharmaceuticals Award 2017 is a prestigious accolade presented to exceptional individuals or organizations in the pharmaceutical industry for their remarkable contributions and achievements. This recognition symbolizes a commitment to excellence, innovation, pharmaceutical research, development, manufacturing, and patient care advancements. The award ceremony, attended by revered figures from the pharmaceutical and healthcare sectors, provides a platform to showcase the recipient's accomplishments and inspire others in the field. Being honoured with the Excellence in Pharmaceuticals Award 2017 signifies a significant contribution to the industry and inspires continuous progress and excellence in pharmaceutical science and practice.
Celebrating Jagat Pharma's Achievements
The "Excellence in Pharmaceuticals Award 2017" served as a platform to recognize Jagat Pharma's significant contributions to the field of Ayurvedic medicines industry. The company's unwavering dedication to Ayurvedic medicines has helped shape the healthcare landscape and improve the lives of countless individuals. This prestigious accolade highlights Jagat Pharma's commitment to quality, innovation, and patient care.
Jagat Pharma's Ayurvedic Product Line
Jagat Pharma has established itself as a prominent player in the market for Ayurvedic medicines. With a focus on holistic healing and natural remedies, the company has developed a diverse range of products that cater to various health conditions. Our Ayurvedic formulations are rooted in traditional wisdom and are formulated using high-quality ingredients to ensure efficacy and safety.
One of Jagat Pharma's notable products is Isotine eye drops. These eye drops have gained widespread recognition for their potential to improve vision and promote eye health. Isotine eye drops are formulated with a combination of Ayurvedic herbs and natural ingredients known for their beneficial effects on the eyes. They are designed to alleviate eye strain, support visual clarity, and maintain overall eye wellness. Additionally, Jagat Pharma provides top-quality solutions in sexual wellness, immunity, pain relief, and female hygiene, addressing holistic well-being and delivering effective natural remedies.
Conclusion:
Jagat Pharma's receipt of the "Excellence in Pharmaceuticals Award 2017" from Minister Rajyavardhan Singh Rathore showcases the company's commitment to excellence in Ayurvedic medicines. Our wide range of products, including the highly acclaimed Isotine eye drops, exemplifies the company's dedication to providing innovative and effective healthcare solutions. As Jagat Pharma continues to advance in the pharmaceutical industry, its focus on quality, research, and development positions them as a frontrunner in the field. The recognition of receiving the award underscores our exceptional contributions and reinforces our commitment to delivering excellence in Ayurvedic medicines. With a strong emphasis on customer satisfaction and a diverse product line catering to various health needs, Jagat Pharma remains dedicated to enhancing the well-being of individuals. The continuous advancements and dedication to innovation ensure that we will stay at the forefront of the pharmaceutical industry, setting new standards for excellence and contributing to the betterment of healthcare worldwide.